Superb Holiday Home
£350* prices from
Sleeps 8

8 Bathrooms

House
Full property details
About Superb Holiday Home Holiday House
A lovely holiday home,about 10 minutes from Disney,with 3 bedrooms including a master en-suite bedroom, large through lounge diner/kitchen area. Fully air conditioned and fans in all rooms. Free high speed Internet for use with your own laptops. The phone provides free Local calls. A fully screened Lanai with sun beds at the rear. Parking bays are at the front.
There is a beautiful heated swimming pool, hot tub and large sun deck for sunbathing. We have a new queen bed and furniture in the master bedroom and new tables, furniture and table lamps in the lounge,
Looking out of the lounge window you can see the real Florida with a vast area of forestry and wildlife. We have seen a wide variety of birds and a giant turtle ourselves.
Amenities
Internet access
DVD
TV
Breakfast bar
Swimming pool
Air conditioning
Hot tub
Garden
Similar Properties
We've found the following properties which you may also like...
House
Canal Home in Hudson,Florida
Yachtsman Drive, United States, Florida, Central West Coast Florida
House
lagunas sunshine
dominical costa rica, Costa Rica, Puntarenas, Manuel Antonio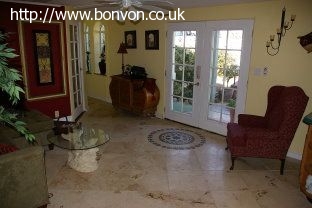 House
Harrington Vacation Properties
10807 E Henderson Po Box 445, United States, Arizona, Central Arizona